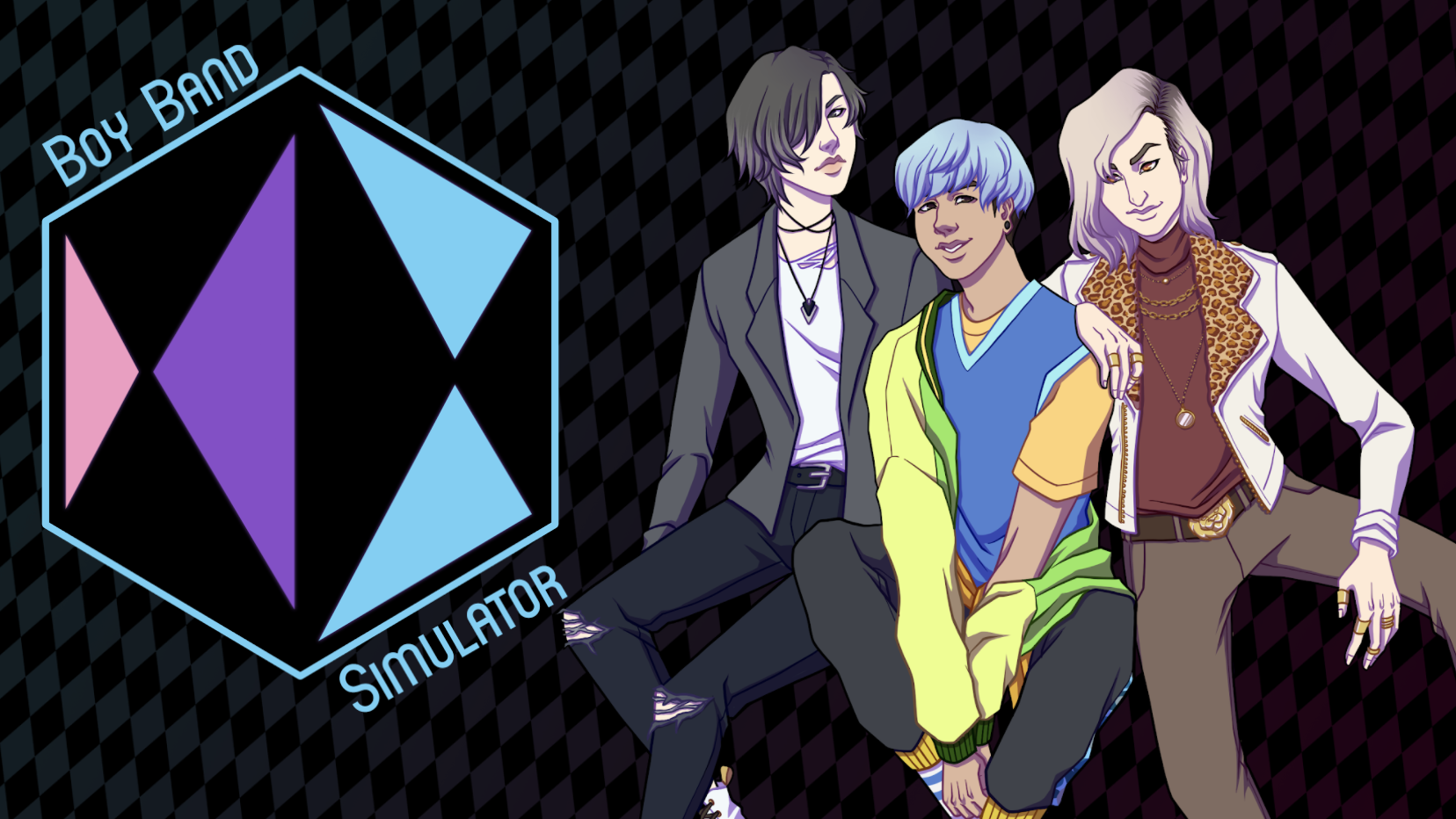 XIX: Boy Band Simulator
A downloadable game for Windows and macOS
XIX: Boy Band Simulator is a visual novel/raising sim/rhythm-action game that affectionately lampoons modern boy bands and the culture that surrounds them. The player takes on the role of Aigburth, a fresh-faced graduate from the prestigious "Boy Band Academy," as he gears up for the big debut of XIX, his rather curiously named boy band. Through mastery of the game's interlocking systems, the player must guide Aig through both his personal and professional lives, ensure the success of his band, and ultimately set the course for the rest of his career.
With XIX, we wanted to make a game that would bridge the gap between fans of narrative games and fans of more systems-focused games while still being engaging and accessible to both. To accomplish this, we combined conventions from visual novels, raising sims, and rhythm-action games to create a unique gameplay loop wherein the player's system knowledge, hand-eye coordination, and ability to understand and connect with the game's characters are all put to the test. The constituent pieces of the loop are very simple, but together they create a complex interlocking system that rewards players for engaging with every aspect of the game. In this way, no matter what side of the spectrum you approach the game from, XIX provides you with both a fair challenge and a comfort zone to fall back on.
The theme of boy bands, while originally chosen somewhat arbitrarily, ended up being the perfect fit for the type of game we wanted to make. The stark contrast between the levity and poppiness of boy bands in popular culture against the almost absurd darkness of the industry behind closed doors provided us with the ideal setting in which to write a story that is light, comedic, and accessible, while also providing rounded characters and meaningful insights for those willing to delve deeper into the world. Not only that, but the vivid iconography and exuberant fashion found in boy band culture proved to be a wonderful source of visual inspiration, and enabled us to create unique environments and character designs that perfectly complement the frenetic energy of our constantly shifting gameplay.
Just like the music and personalities that inspired it, we hope that XIX: Boy Band Simulator will appeal to people from all walks of life. Regardless of your previous experiences with games, or lack thereof, we hope that you will join Aig, Lee, and J-Pe on their rise to superstardom!
XIX: Boyband Simulator is currently in development. Please enjoy the downloadable demo!
Made with Unity

The Team:
Andrew Petersell - Lead Programmer, Animator, Game Designer, Writer
Kit Kwan - Lead Visual Designer, Artist, Game Designer, Writer
With Original Music by Feyer and Jack Laboz
Install instructions
Demo Controls:
Mouse to navigate and make selections during visual novel and scheduling.
Arrow keys for mini-games.
Any key to cycle through dialog during visual novel